Construction and Assessment of Classification Rules
Books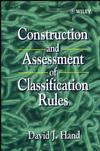 Published: 21 January 1997
ISBN: 978-0-471-96583-1
Author(s): David J. Hand
The author has written an accessible book presenting the central issues and placing particular emphasis on comparison, performance assessment and how to match method to application. He reviews the different approaches and guides researchers (and the huge class of users and potential users) to suitable classes of techniques. He points the way to more detailed study in "further reading" sections in each chapter. BASIC IDEAS.

Introduction.

CONSTRUCTING RULES.

Fisher's LDA and Other Methods Based on Covariance Matrices.

Nonlinear Methods.

Recursive Partitioning Methods.

Nonparametric Smoothing Methods.

EVALUATING RULES.

Aspects of Evaluation.

Misclassification Rate.

Evaluating Two- Class Rules.

PRACTICAL ISSUES.

Some Special Problems.

Some Illustrative Applications.

Links and Comparisons Between Methods.

References.

Index.